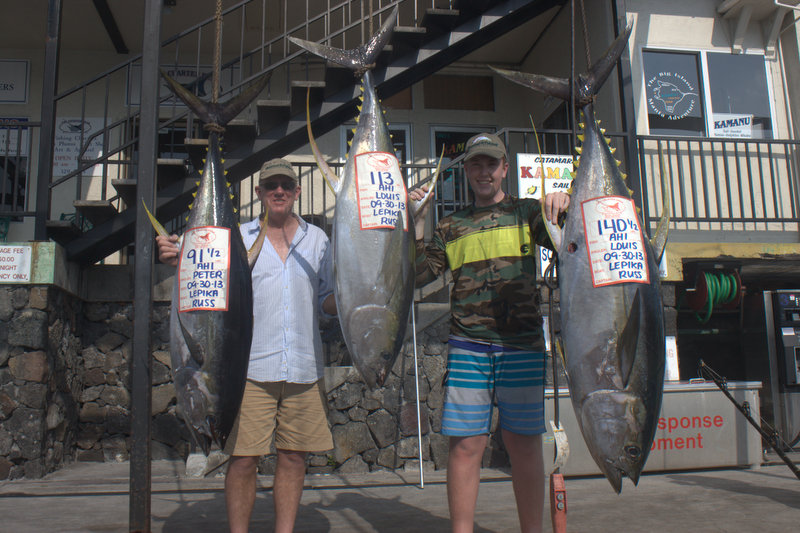 Since they couldn't win the America's Cup Yacht Race the Kiwis decided to try their luck fishing Kona!  Ha!  I couldn't help but to give a lot of grief to New Zealanders Peter and his son Louis.  If you didn't follow the Americas Cup the Kiwis led the series and needed one win to clinch the cup but instead lost to the Americans who came back and won 8 straight races!  Well, today we tried to get the Kiwis into some fish!  We ran south looking for porpoise and before we could even put a line in the water we spotted a boat zigzagging in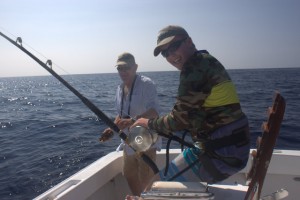 front of a nice pile.  There were plenty of birds leading the pod and since the other boat had made several trolling passes I decided to go to the greenstick right away.  On our first pass I didn't mark any fish in the school and with the sun coming up over Mauna Loa a big ahi blew up on one of our squids!  Louis was first up and caught his first ever ahi in about 15 minutes!  We reset and made several more passes in the school without a bite.  The past few days there has been a pretty decent blue marlin bite so I decided to leave and troll marlin on the ledge.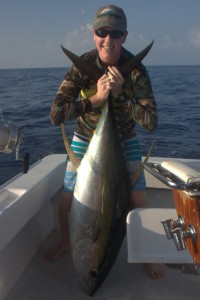 I took us inside and worked the ledge farther south.  For about an hour we tried without success.  As I headed back offshore I noticed more porpoise charging towards the other pod we had just left.  By the time I caught up to them they had joined up so again we went to the greenstick.  It didn't take long as Peter and Louis saw a big ahi come blasting out of the water with one of our squids in its mouth!  Peter was up and caught his first tuna in about 10 minutes!  We quickly reset and made a pass in front of the school.  Again, another ahi came blasting out of the water and inhaled one of our squids!  The bite was on!  Louis got in the chair and battled his second ahi in about 15 minutes!  It was getting late and with three big ahi in the boat we called it a day an headed to the scales!