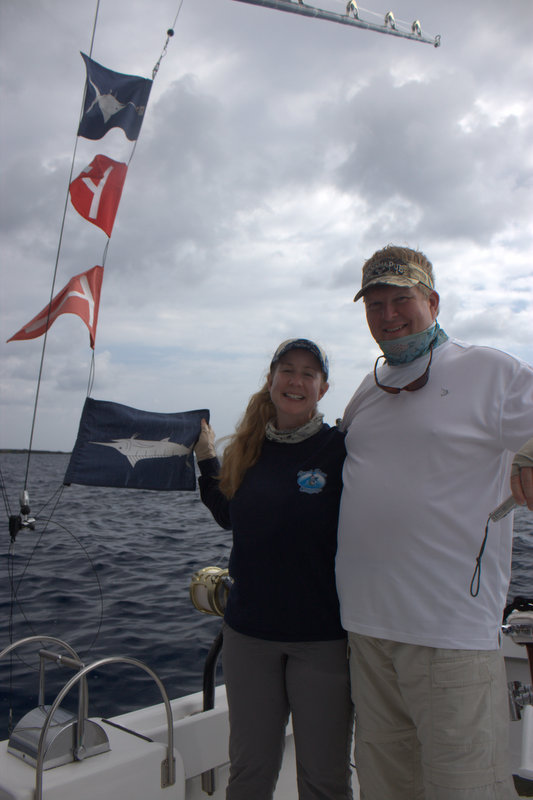 Todd and his wife Teresa joined me for a full day on the Lepika.  The short nose spearfish have shown up in pretty good numbers lately so that was our target species today.  It seems like every boat out has been getting at least one bite from these small billfish.  We worked our way south of the harbor down the 1000 fathom line.  Outside of Keauhou we got our first bite from a nice sized spearfish on the long rigger.  This was Todd's fishing trip so he was first up and quickly landed his first shortnose spearfish in about 10 minutes!  After taking some quick pictures alongside the boat we safely released it to fight another day!  It weighed about 35lbs.  We continued south and the current was perfect for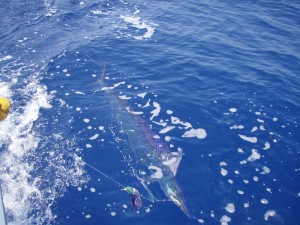 some of the ledges off of Milolii, 30 miles south of the harbor.  We worked outside the village and hooked up to another nice spearfish.  Todd also reeled this one in, his second spear of the day!  It also weighed about 35lbs.  I reset the lines and as I went up to the flying bridge another spearfish inhaled the stinger lure.  This time Todd was using the head so Teresa jumped in the chair and brought her first spearfish to the boat in about 15 minutes.  As I leadered the fish closer to the boat we noticed the hook went into the corner of it's mouth and out it's eye.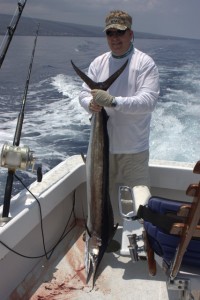 It wasn't going to make it so we all agreed to take it.  As we trolled back up to the harbor we had another spearfish bite that wouldn't stick.  All in all it was a great day with two spearfish releases and one in the cooler for dinner.  Todd and Teresa just sent me this picture of some seared spearfish they made at their condo….Yum!