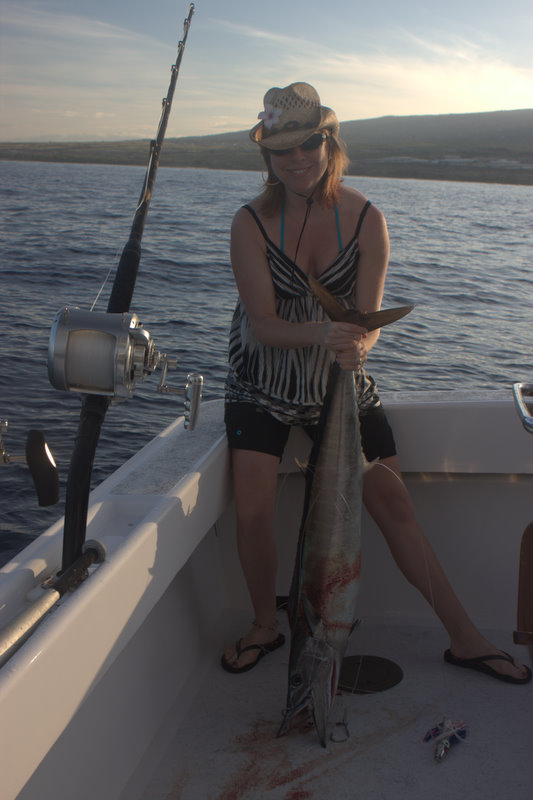 Dan and his wife Nan of Fernley, NV are back in town for their yearly trip to Kona.  They're staying in a condo and they wanted to catch something to take home for dinner.  Since yesterday was tough fishing offshore, I decided to try for ono early in the morning and then head offshore later in the afternoon in search of bigger game.  I put the first lure out right inside the harbor mouth, something I never do.  As I pinned the first line up on the outrigger it was yanked out of my hand with a solid bite.  We were in less than 20 fathoms of water which is unusually shallow for ono.  Nan jumped in the chair and fought a nice 20lb ono to the boat.  We took a lap up to the airport area and then back down towards the harbor without anymore bites so we headed into deeper water.  Shortly after we missed a short nose spearfish.  We circled the area hoping for more bites when suddenly Dan and I saw a big blue marlin pile on the long corner bait.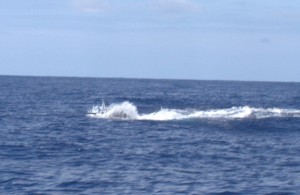 The fish took out several hundred yards of line within minutes and came back at the boat and gave us a series of nice jumps just a few yards away.  Dan was in the chair and did a great job fighting the fish for well over an hour when the hooks finally pulled.  We set the lines back up and soon after Nan was in the chair fighting her first ever short nose spearfish which we quickly released and estimated at about 30lbs.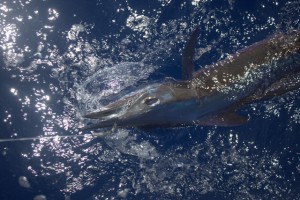 In a few weeks Dan's father will be fishing 2 days with me and hopefully we can get him into some good fishing too!