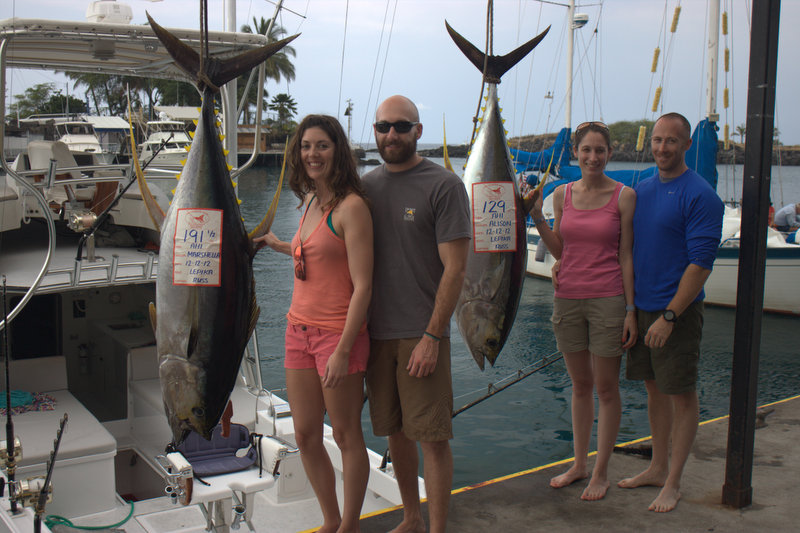 Today, I hosted Marshella, Alison and their boyfriends Chris and Chris for a 3/4 day charter.  This time of year I would highly recommend a full day but we decided to give it a try on a little shorter trip.  I started right in front the harbor and worked my way straight out towards a nearby buoy.  Nothing was at the buoy and we had some hard wind out of the northeast.  I ventured way offshore to look for current and debris that might be holding mahimahi.  As I continued out to the deep I angled down swell to make the ride more comfortable.  About 15 minutes later I saw a porpoise jump about 200 yards away.  It was hard to see in the swell if they were spotted dolphins so I continued on trying not to lose sight of them.  The pile was massive, probably one of the biggest pods I have seen in a long time.  I made my first pass without a bite and no fish showed on my sounder.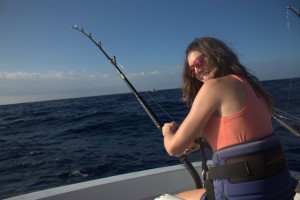 The pod was just too big to not be holding fish so I switched my pattern to more ahi type lures.  I came back into the school and made 5 passes without marking a fish or getting a bite.  I started back in when the stinger position fired off!  Line was dumping off the Fin Nor 80 as I buckled Marshella into the fighting chair.  We were almost at half a spool before the fish settled down.  Marshella got to work fighting her first fish ever!  She did a great job and stuck with it the whole way.  In about 40 minutes she finally got the fish to leader!  Her biggest ahi and her first fish ever would scale out at 191lbs!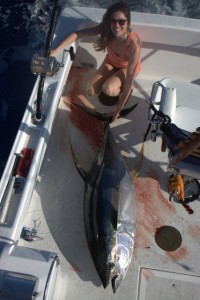 After a few pictures we reset lines and found the pod surfing its way south.  We made pass after pass without a bite and still no fish were on my sounder.  I was just about to give up when the long rigger came down hard!  This time Alison was in the chair and fought her fish on a larger Fin Nor 130.  We pushed the drag up and Alison got to work in low gear.  We laughed as I told them this is Alison's Allison (Allison yellowfin tuna)…Alison made quick work of her first ahi in about 15 minutes!  Her ahi would hit the scales at 129lbs!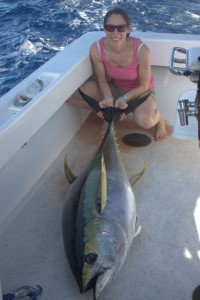 We lost the pile in the swell and headed back to the harbor.  We went into ono lane and worked from Keauhou to the airport without another bite.