Scott and Valerie have fish with me for several years and caught some big ahi, blue marlin as well as a short nose spearfish to complete his IGFA Billfish Slam.  On this trip to Kona, he wanted to catch a tiger shark to check off his list of shark species for his IGFA Shark Slam.  I rarely target sharks, especially tiger sharks because they are believed to be spiritual ancestors of the Hawaiian people.  We rarely see "small" tiger sharks (under 10 feet) and they are truly a magnificent fish.  Scott really wanted to catch one and since we were going to release it I decided to try and get him one.  We fished 2 days and on the first day we were shocked to not raise a single tiger shark.  On our second and last day the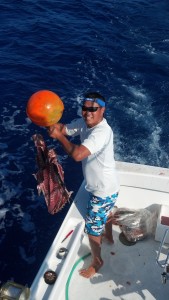 pressure was on!  My good friend Kevin joined me and brought along several garbage cans full of tuna and miscellaneous bottomfish including several amberjack which these tiger sharks love to eat.  The plan was pretty simple…start down current and pump bloody water out as we traveled up current starting a big slick.  Kevin threw chunks of bottomfish and tuna as we made our way to our drift point.  We then tied a large carcass to a float and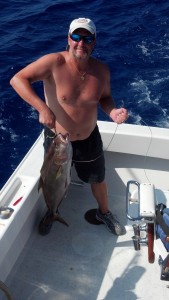 dropped it a few yards away from us.  Kevin rigged a 30lb amberjack on the Fin Nor 130 and got it ready to pitch to a shark.  As I watched the float a big brown shadow appeared out of nowhere and slammed into the carcass hanging below.  I yelled to Kevin that we had a shark eating the float and he threw the rigged amberjack into the water as I motored closer to the float.  I watched as the tiger made another pass on the float and this time he grabbed the carcass and took the whole float and bait down for about 20 seconds!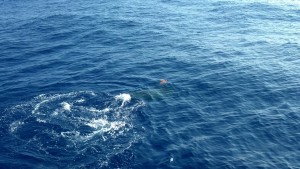 We lost him for a minute and then he came in pretty fast on our bait.  We were trying to get some good video footage so we teased him to within 30 feet of the boat but he refused the bait at the last second.  Kevin sunk the boat and the tiger came around and ate the bait a few yards under the boat!  Scott got himself clipped into the chair and got to work.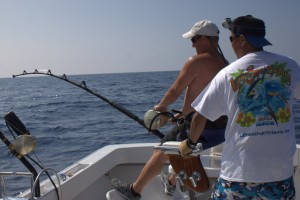 He is a really experienced angler and got his first tiger to the boat in about 40 minutes!  As Kevin leadered the tiger we were amazed as it rolled over and showed us just how thick she was!  I don't think that anyone could have put their arms even half way around this sharks belly!  It looked like she had been feeding on a baby whale!  After a few pictures we released her unharmed with a nice hook set in the corner of her mouth.  Since it was still early we decided to try for another and it didn't take long!  Our slick was working!  We reset the float and sunk an amberjack as we waited.  The deep bait fired off and we were on again.  This time the shark made a blistering run!  Scott worked the shark up to the boat and apparently we had tail wrapped her.  This shark was even bigger maybe 14 feet but not as fat as the first one.  Kevin leadered her up and got her unwrapped from the leader when she kicked a few times and broke the main line.  What a day!  Two big tigers and one that was definitely over 1000lbs!