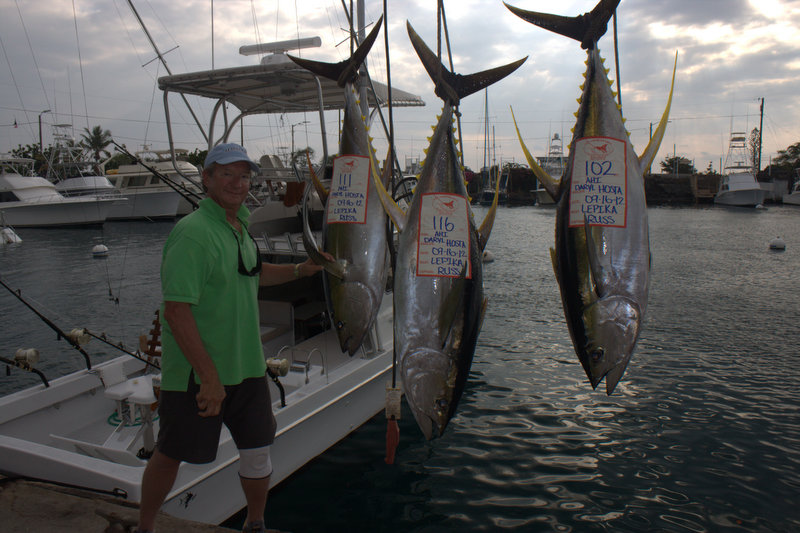 September ended up being a great month this year!  The fish showed up a little late this Summer as they have for the last three years.  We had a few epic days of fishing especially with Daryl from southern California.  Daryl fishes every year with me and usually for several days at a time.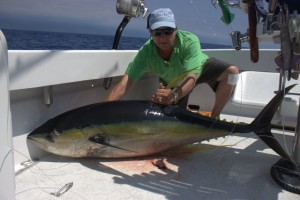 He is a greenstick fanatic and loves watching these big tuna blast off on the squid baits!  This trip he fished four days straight and landed 6 ahi from 102lbs to 116lbs!  A few days later the Roladers fished a full day and caught two really nice ahi weighing 106lbs and 125lbs!  Don also fished again this year with me and we lucked out and found a big log floating in the water that was covered with nice mahimahi!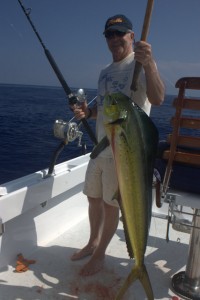 We ended up catching 5 from 17lbs to 28lbs before searching for porpoise that were holding big tuna.
I had a chance to fish for giant bluefin tuna this year off the east coast of Canada.  I spent a week with a few friends of mine and we caught fish ranging from 450-600lbs daily.  We were lucky enough to weigh one that went 754lbs!