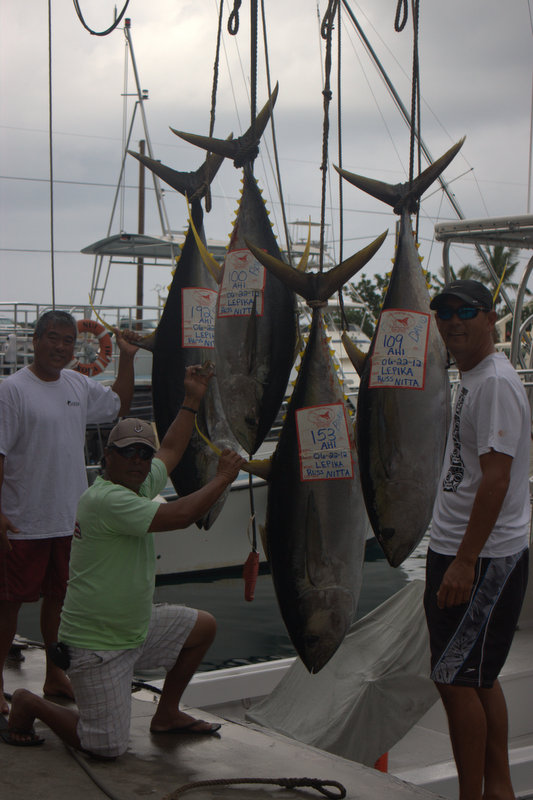 Today my friend Dave invited his fishing buddy Bobby along for a full day trip.  The ahi bite has been unbelievable recently so we started fishing close to the harbor.  In the last few days there have been some blind strikes (bites with no signs of tuna present).  We caught one yesterday in the blind so why not troll early in the day?  We ran to the 1000 fathom ledge and set up trolling.  I had the fourth line up and was just about to put the fifth out when the long rigger came slamming down!  Line peeled off the 130 Fin Nor and I looked back waiting for a marlin to come tailwalking across our wake.  It never did.  Instead, it dove for the bottom…a tell tale sign of an ahi!  Bobby had never fought a fish out of the fighting chair so this was a whole new experience for him.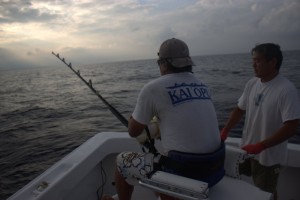 We buckled him into the harness and he started to gain on the ahi.  By it's initial run and difficult time it gave  Bobby, we estimated it to be "BIG".  In about 20 minutes Bobby was able to get us the leader and we sank 2 gaffs into what we thought would be a 200lb ahi!  Bobby's ahi would eventually scale out just shy of the 200lb mark at 192lbs!  We worked our way straight out looking for porpoise.  Several boats were also looking but couldn't find them either.  About 2 hours later I saw a splash on the horizon then dolphins leaping everywhere…we had found them.  I made a turn out and made our first pass in front of them.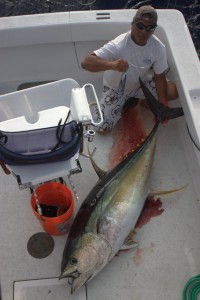 The stinger was the first rod to get bit then followed by the long rigger…a double strike!  Bobby got in the chair as Dave fought his fish out of the gunnel.  Dave's fish was hooked at the top of it's mouth and gave us a hard time on the leader but we eventually landed his 109lb ahi!  Bobby's came up next…a bigger fish that scaled out at 153lbs!  We ran back to the front of the school and set-up the greenstick.  We worked the school for about three more hours before deciding to call it a day.  We trolled our way back to the harbor and to our surprise found another big porpoise school.  I decided to go right to the greenstick and after an hour of trying another big ahi pounced on one of our squids.  Again, Bobby was up and landed his third ahi of the day in about 10 minutes.  This ahi scaled out at 100lbs!  There was a lot of fish in this school and we continue to work it hard.  Unfortunately, we would miss the next three ahi bites!  UGH!  We ended the day with 4 nice ahi and missing another 3….the bite is ON!