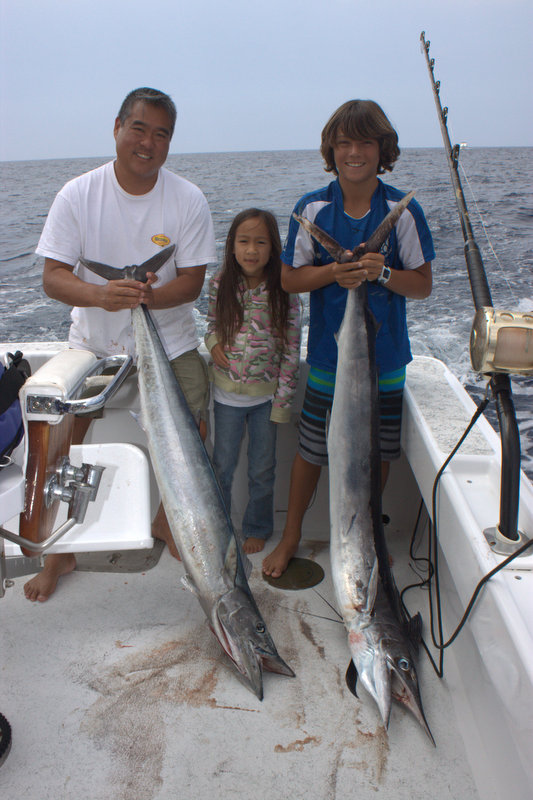 Today I took my good friend Dave, his daughter Maluhia and my son Fisher out on the Lepika.  My youngest son Kai had a football game so we planned to fish just a half day.  Since the kids were on board we opted for lighter tackle and went with my Fin-Nor 30W with 50lb line.  Maluhia had chosen two lures which we opted to run on the stinger and long rigger position.  The next few hours would reveal those lures were hot!  The ono have been biting pretty good lately so we tried that first.  It was barely light as we made our first pass down the ledge when the short bait took off first with a screaming run (that was one of my lures – Maluhia!).  Unfortunately, it quickly came off before we could get to the rod but the stinger lure fired off a few seconds later with another ono bite. 
Maluhia was first up and quickly got to the rod as Fisher and I cleared the inside rods.  She chose to fight the fish out of the rod holder as Dave gave her words of encouragement.  Maluhia fought the fish unassisted and landed her 30lb ono in about 15 minutes on her hand picked lure!  More and more boats tried their luck near us so we headed offshore to look for a spearfish for Fisher.  He and I have been practicing all IGFA angling techniques lately which means he must take the rod from the holder and strap himself in the chair unassisted.  The only time someone can assist him is leadering and gaffing/releasing the fish.  We traveled south where we had several bites the last few days.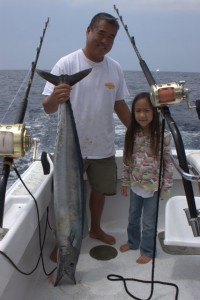 We worked the 1000 fathom line without any bites.  Other boats in the area also reported slow fishing so we decided to call it a day and work our way back up towards the harbor.  As we neared the harbor we couldn't believe we didn't get a bite.  Suddenly, the long rigger bullet that Maluhia had picked out came down hard and the Fin-Nor 30W screamed as the fish took a long run!  Fisher got himself buckled into the fighting chair and got to work.  Dave helped me clear lines as Fisher fought the fish.  In about 10 minutes the leader was at the rod tip and Dave wired the spearfish into gaffing range.  Fisher's spearfish would scale out at 33lbs!  Overall, it was a great day with the kids getting some nice fish and all on light tackle!