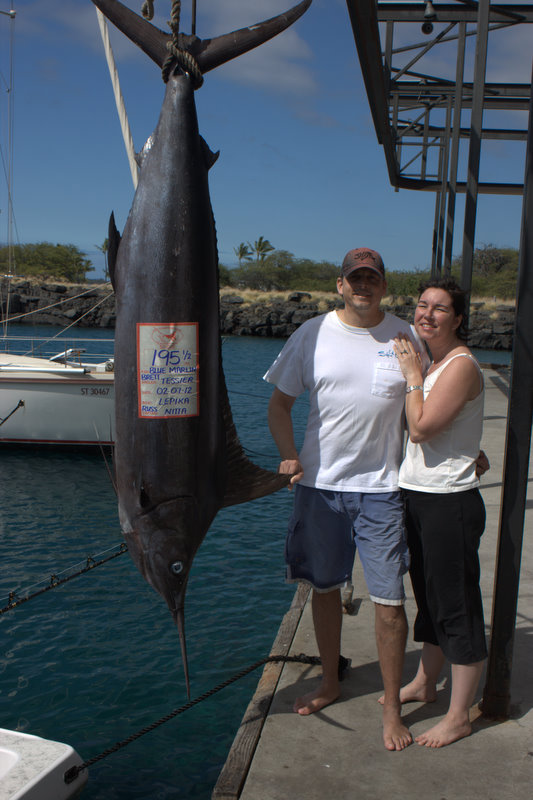 Brett and his wife Jodi joined me today on the Lepika.  Today was their second day fishing with me and unfortunately we missed all three billfish bites and caught a big shark on the previous time out.  Brett has fished here before on other boats looking for a blue marlin and a short nose spearfish to complete his billfish slam, but was unable to accomplish his goal.  Since we caught four blue marlin up on the Grounds the past two days I decided to go back there and live bait.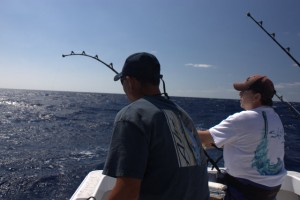 The weather today was rough.  We had a cold front move thru and the wind was out of the south at 15-20 knots.  This is VERY unusual for Kona but we decided to try and fish.  We went right back to live baiting and got bit almost immediately!  Brett got in the chair and we waited to see a big blue jumping in the distance.  After a 10 minute fight we all watched as another big shark came to the surface.  Brett couldn't believe it…two sharks in a row after I just caught four blue marlin in the last two days without one shark bite!  The wind was picking up so we decided to go back to trolling.  I headed back towards the harbor just in case the weather got even more ugly.  It didn't, so I made the decision to go back to the Grounds and live bait.  We were only able to catch one bait so I sent it back long.  Again, we were bit immediately!  This time the fish fought deep leading us to believe it was another shark!  I watched the line angle as the fish stayed deep.  The weather was picking up and I was concerned we were out of time to get a blue marlin on bait.  Frustration set in since I knew we were out of time to get another bait and the weather was getting worse.  We all began to think it was a shark until the line steadily rose higher and higher until about 100 yards away a blue marlin stuck his bill out of the water!  I throttled the Lepika back on the fish trying to get it close to leader.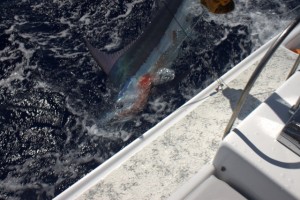 Brett did a great job fighting the marlin as he was taking buckets of water over the transom as we backed down.  In about 15 minutes we had it alongside the boat.  The hook was buried deep in it's throat so we decided to kill it.  This was Brett's first blue marlin that weighed 195lbs!  Brett will be fishing two more days with me and hopefully the weather gets better!