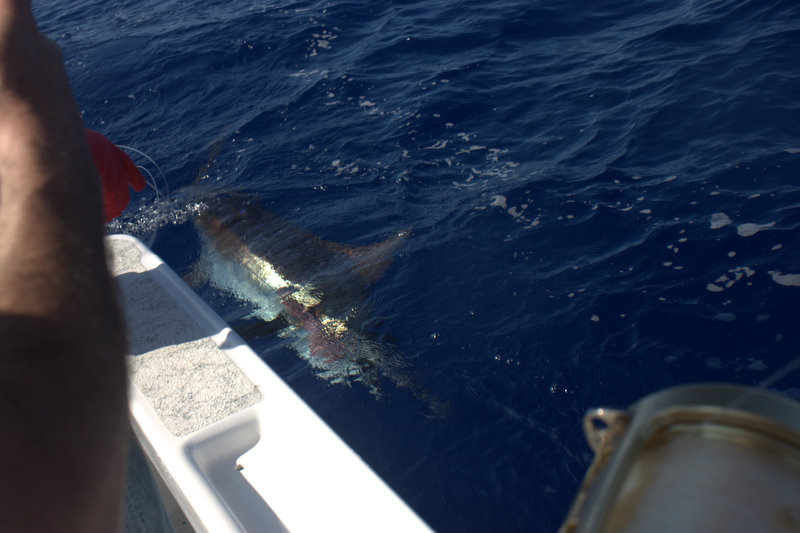 Mark and Mike of Petaluma, CA were back to fish with me again this year.  Last year, Mike's goal was to catch a fish heavier than his own weight…we'll leave it at over 200lbs, per Mark.  On that trip, we didn't beat that goal but we did catch he and Mike two nice ahis that weighed 107lbs and 108lbs.  This year, Mark booked me for 3 days in search of his elusive monster.  I headed to the "Grounds" north of the airport.  The striped and blue marlin had been biting pretty good up there so our chances were promising. 
On our way up, we hooked a small striped marlin on the stinger and Mark jumped in the chair and made quick work of his 40lb stripey.  It wasn't the monster he wanted but we were on the board!  I continued to work the ledge without any bites and other boats in the area also reported the same results.  There was a lot of bait fish feeding in the area so I decided to show the fish something different and live bait.  We quickly caught two perfect oioi (frigate mackerel) and bridled them up.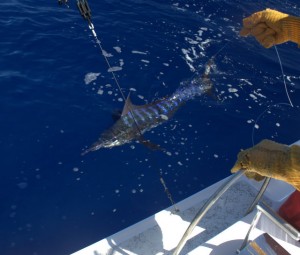 It didn't take long!  A small blue marlin rushed in and ate one of the baits.  Mike was up and fought his 90lb blue marlin to the boat in about 10 minutes.  We ran back onto the ledge and caught two more baits and sent them back.  Again, it didn't take long!  A nice blue marlin swirled on the long bait and missed it.  It rushed forward to the short bait just a few yards behind the boat and we all watched as it pushed water trying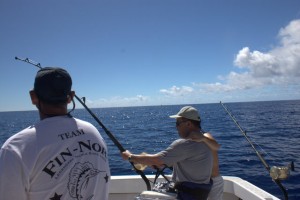 to eat the frightened bait on the surface.  This was the one Mark was waiting for!  The marlin peeled out 300 yards of line putting on an unbelievable aerial show behind the boat.  We backed down hard on the fish trying to keep it close.  Mark fought the fish for about 25 minutes before we safely released it behind the boat.  We estimated it at 250lbs!