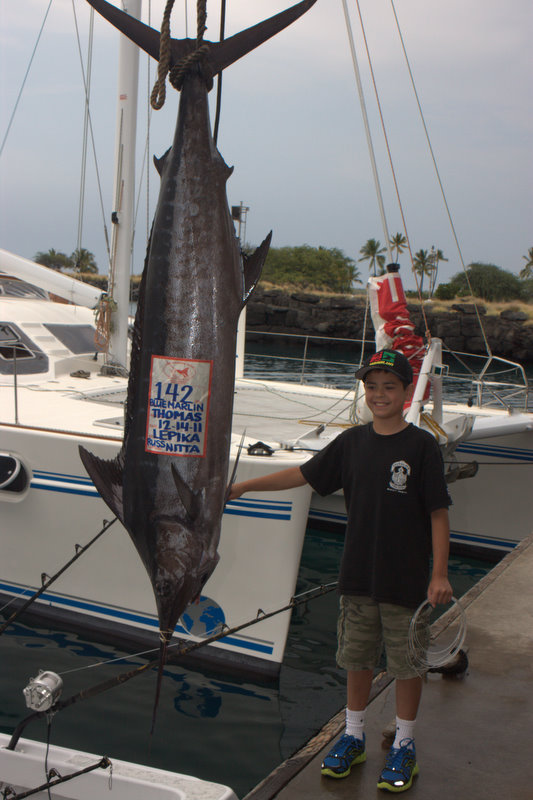 Thomas, his father Dave and Grandpa Ron fished on the Lepika today.  They havecome to Hawaii for vacation almost every winter from their home town of Snohomish, Wa.  They've fished here on almost every trip in the past 6 years with several different charter boats but decided to give the Lepika a try this time.  Dave's biggest fish was an estimated 500lb blue a few years ago so he is no novice when it comes to big blue marlin.  Today however, Dave was looking for something for his 10 year old son Thomas.  We started straight out front the harbor and worked our way north towards the Grounds.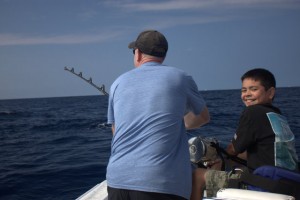 I had caught several medium size ahis the previous day and the signs all pointed to the possibility of larger predators in the area.  The day started out slow and just got slower….Dave, Ron and especially Thomas were very patient, biding their time eating and telling fishing stories from the Puget Sound.  We trolled for a few hours without any luck and decided to catch a live bait and try a more natural approach.  It wasn't hard getting bait even though there really wasn't much showing on the surface.  We caught two perfect baits and ran them out to deeper water.  I rigged them up on the Fin Nor 80′s since it would be more manageable for Thomas in case we hooked a big fish.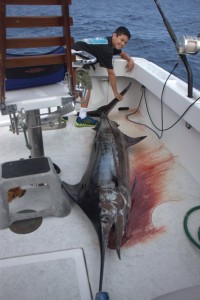 The baits were in the water for about 15 minutes when the long bait got nervous and ultimately eaten.  Thomas jumped in the chair and as I throttled forward to set the hook, line quickly started to dump off the reel.  Dave held Thomas in the chair as I strapped him in.  At first, he wasn't sure if he could handle the pressure, but we put the reel into low gear and he started to slowly gain line back on the fish.  He fought the fish for about 15 minutes and it never jumped which had us thinking maybe he had a shark!  Then, as it got closer the marlin stuck it's nose out of the water trying to throw the hook from it's mouth.  It also threw it's stomach out which is a tell tale sign it had swalloed the hook deep.  Blood was pouring out of it's gills and it was quickly dying.  Thomas cranked his first blue marlin to the boat about five minutes later.  I decided to take the marlin since it was gut hooked.  Thomas wasn't bothered a bit as he watched me drag his 142lb blue marlin through the transom door.  As an early Christmas present, Dave mounted the whole fish which will hang in Thomas's bedroom in a few months!  Congratulations Thomas!!!