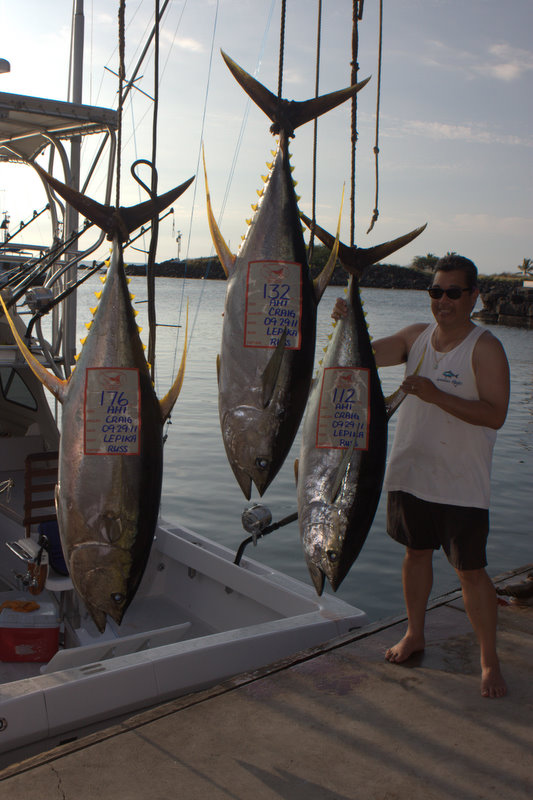 Craig was back for Day 2 on the Lepika.  Last Monday he fished with me and caught a nice 174lb ahi.  Today we were out to catch more ahi and hopefully, one over 200lbs.  Again, we found a pile close to the harbor and worked them for about an hour without a bite.  Although we marked fish in the pile I didn't think it was the "right" pile to fish for the rest of the day so we pulled our gear out and continued along the coast looking for the "right" pile.  About an hour later we spotted boats on the horizon and they were on the porpoise.  As we approached the school there were birds everywhere picking off small baitfish chased to the surface by feeding tuna and dolphins.  I had a live bait in the live well and sent it back in front of the feeding frenzy.  We were instantly bit and Craig fought his first ahi of the day to the boat in about 20 minutes.  It weighed 112lbs.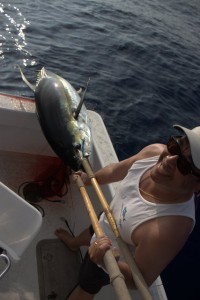 Ahi were feeding on the surface so I put up the greenstick to try our luck.  On our first pass a big ahi exploded on the squids but completely missed the hooks.  It never came back for another try.  We continued on and another big ahi blew up on the squids and was hooked well.  Craig fought his second ahi to the boat in about 15 minutes.  It weighed 132lbs!  For the next 2 hours we would miss 3 more ahi.  It was really frustrating and Craig jokingly said we need to beat 200lbs – total weight.  I was pretty sure we had that beat already but we tried hard for a third ahi the school but no takers.  We decided to high speed troll home (trolling 2 lures at 12 knots).  I catch a lot of marlin trolling this way and to some it may seem fast but big fish can move even faster when chasing their prey.  Halfway home, the long corner rod bent over and line peeled out.  As I prepared to strap Craig into the chair it came unbuttone! UGH!  It could have been his 200lb blue marlin he had been hoping to catch.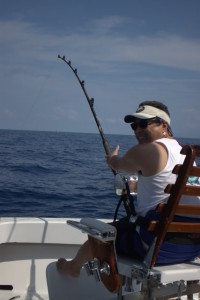 We continued to high speed troll back.  We joked about it happening again.  No sooner had we looked back when the same rod came crashing down.  This time it was on!  Craig strapped into the chair and I watched behind the boat for a jumping blue marlin but nothing showed.  The fish dove deep and fought like an ahi.  Was it an ahi?  It sure was!  Craig fought another monster ahi weighing 176lbs to the boat in about 30 minutes.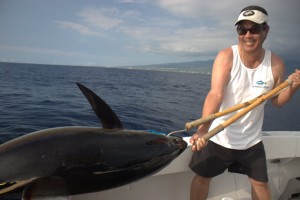 He was worn out and we cleared lines and ran to the harbor to weigh our fish.  His 2 day total was 4 ahi for a total weight of 594lbs!