Yesterday was a great day!  We caught three nice yellowfin tuna so we were excited to give the porpoise school another try!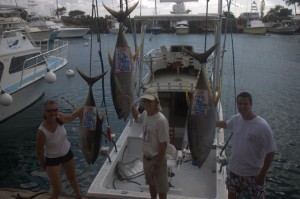 Today I hosted Will from Kenai, Alaska on a full day charter.  Like all fishing, it is fishing and sometimes unfortunately not catching.  We again found the porpoise but later in the day and only had a short time to fish them.  The pod was spread out for most of the day which prevented us from finding where the fish were located within the miles of porpoise.  When the pod finally came together it was 1pm and I decided to drop some bait down deep.  On our first drop the rod screamed out line for about 10 yards and stopped.  I cranked up the slack line only to find no hook on the other end.  We broke it off!  Ugh!  We made several more drops in the school but couldn't get a bite.  The porpoise spread out even more and with time running out we ran back to the harbor without anything in the box. 
I will be off for the next two days so more reports (successful reports) hopefully this Friday!