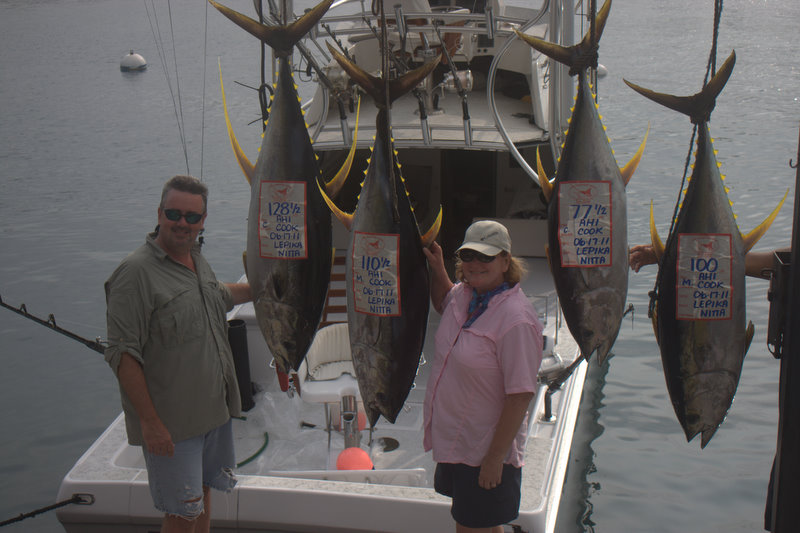 Today Chuck and Margaret fished on the Lepika.  Chuck and Margaret chartered us for the Rock and Reel Tournament on Saturday and Sunday so we prefished today to get the "bugs" out and scout the water.  Deckhand Kevin Shiraki is crewing for me for this weekend's tournament and joined us on the prefish day.  There hasn't been too many blue marlin around so I took them to the porpoise school to get some practice yanking on some big ahi.  We found the school far to the north of the harbor and on our first pass hooked a nice ahi on the long rigger.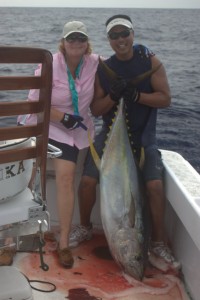 Margaret was in the chair and fought her first hawaiian ahi to the boat in about 30 minutes.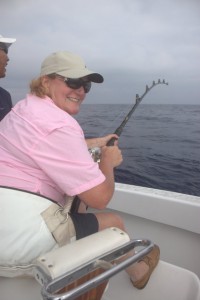 We ran back up to the school and continued to troll lures.  We marked another fish at 30 fathoms and it bit the stinger lure but came off after a short run.  We went to the greenstick and after a few hours finally started to mark fish in the school.  Eventually we caught one that went 110lbs and missed another.  The fish were deep so we decided to drop bait on the maki doggu rig and a very special Kealaula cone dog made by the daughter of one of Kona's best bait fisherman.  The maki doggu and the Kealaula cone dog are designed to take both chum and bait down to depths of 45-60 fathoms.  On our first drop we missed the school completely but on our 2nd drop we had a screaming bite but it shortly came unbuttoned.  The 3rd drop was perfect and the Kealaula cone doggu was the first to get bit.  Chuck was up and fought a nice 128lb ahi to the boat.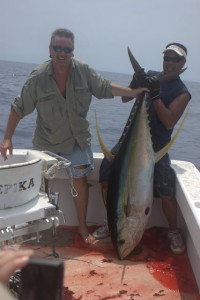 On the fourth and final drop it was the maki doggu that got bit.  Margaret was up and did an awesome job fighting her 2nd big ahi to the boat.  Both Chuck and Margaret got a good workout today fighting 2 big ahi each to the boat  and hopefully tomorrow we can duplicate our results and win the Rock and Reel Tournament.  Day one of the Rock and Reel coming up tomorrow!!!