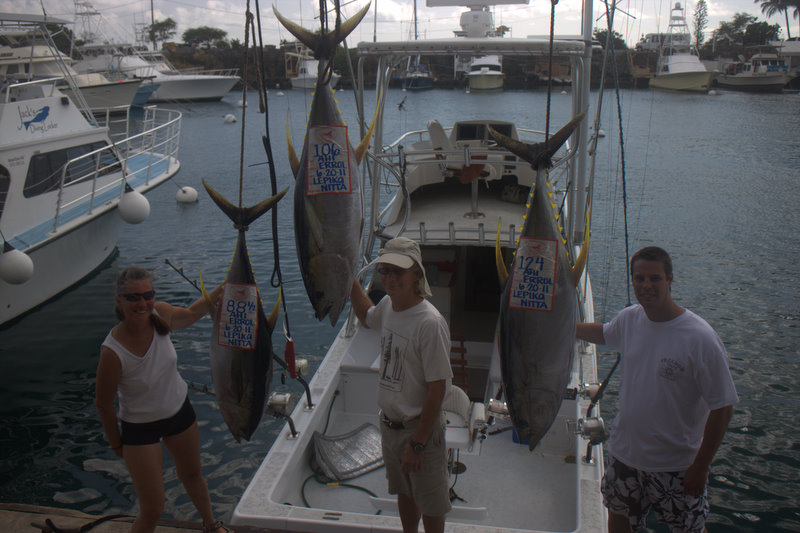 With the lack luster marlin bite from this weekend we decided to head offshore in search of tuna.  Local residents Bill and Cookie of Captain Cook fished with their son Errol and were looking for some offshore action.  A friend of mine had found the school early and called us to his location.  On our first pass trolling we marked several fish down deep at 55 fathoms and never got a bite on the surface.  For about an hour we trolled without a bite and decided to drop bait down deep.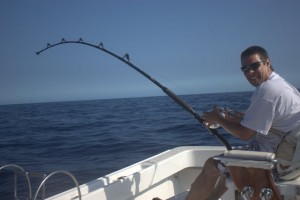 On our first drop at 55 fathoms the rod bent over and the line screamed off the reel.  Errol was up and fought his first 124lb ahi to the boat in about 25 minutes.  The next 3 drops would yield 2 more ahi, a 88lber and a 106lber.  The fish were there but as the day went on we slowly saw less and less on the sounder.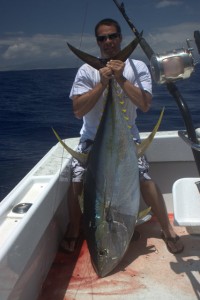 Several fish were caught by other boats in the area.  My good friends's father Archie had a double strike trolling but unfortunately one came off right away and the other was lost at the leader.  Tomorrow's another day so hopefully the fish will still be around!  There was a 927lb blue marlin landed today so who knows what tomorrow will have in store for us!