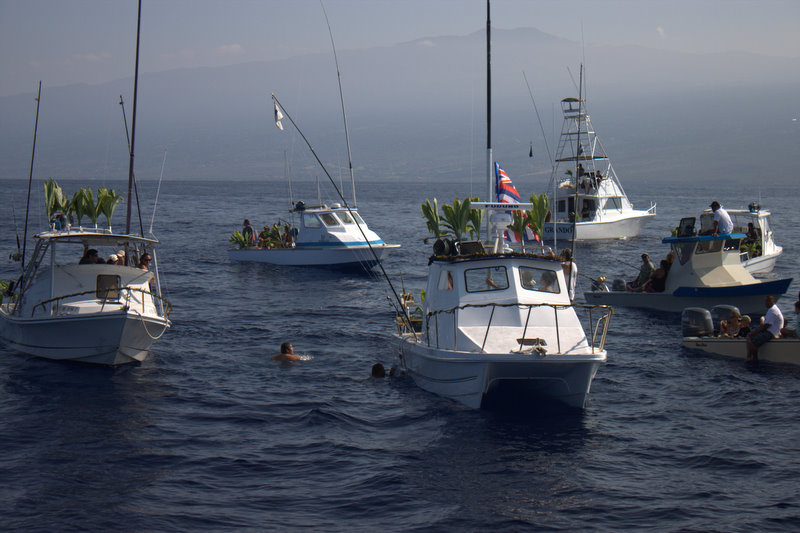 Saturday I hosted Casey Hall and his brothers.  They were here in part to celebrate the passing of their father who brought them fishing in Kona several years ago.  Their fishing trip today coincided with the scattering of ashes of one of my good friends and a great fisherman Newton Leslie.  I asked Casey if it would be ok if we attended the ceremony in the mid morning near one of Newton's favorite fishing spots, the 1000 fathom curve outside of Capt. Cook.  He had never been to an ash scattering ceremony "Hawaiian Style" so he was eager to take part in it.  At around 9am,  several boats carrying most of Newton's friends and family arrived at the 1000 fathom line some 12 miles south of the harbor.  Newton's mother Yvonne rode Newton's boat and carried his ashes to the chosen spot.  As about 15 boats gathered around, a chorus sang as Newton's ashes were spread into the water by his mother, his older brother Wes and his sister.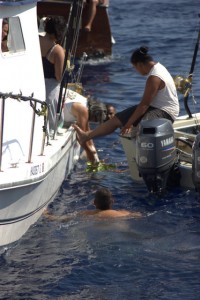 Flowers and leis were thrown into the water and in traditional manner several friends and family jumped in the water to have one last "swim" with Newton.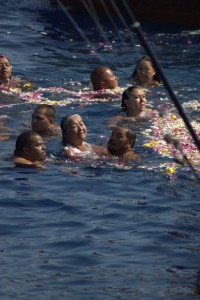 Thanks Casey for allowing me to take part in the ceremony and time out of our charter!  We fished the rest of the day and struggled.  Near the end of the day we were right out front the harbor and had a nice 300-400lb blue marlin eat the long rigger and drop back to the stinger only to come off.  That would be our only bite of the day.
On Sunday Aug 21st, ex Seattle Seahawk Center Rob Tobek fished with me along with his family.  Rob hosts the Outdoor Line on radio station 710am in Seatle.  We struggled all day without a bite.  Sometimes you try hard but the fish gods aren't with ya!