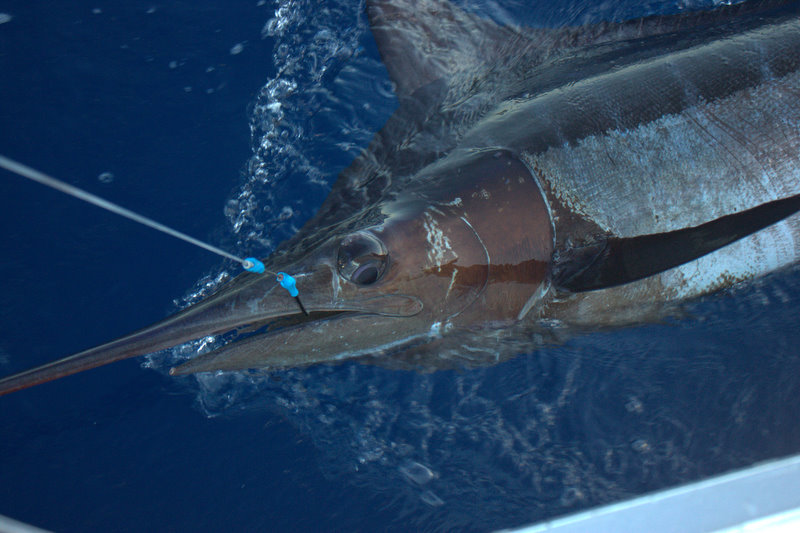 Dennis and and his son Max fished on the Lepika with me today for day one of a two day charter.  Today we headed north and on our way to the Grounds we were happily interrupted by a 150lb blue marlin that ate the long rigger lure.  The marlin headed for the horizon in a series of big leaps throwing water in all directions.  Neither of them had ever caught a blue marlin and it was Max's turn in the chair.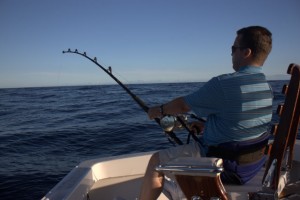 It was hard at first but Max started to let the bucket harness do the work for him and in about 10 minutes got the fish to leader.  After a few pictures we released the blue to fight another day.  We continued on out into the deep and found a big porpoise school.  We worked the school for about an hour and no marks appeared on my sounder indicating tuna.  We were about to give up when a nice ahi exploded on the stinger.  It was Dennis's turn in the chair.  Dennis also had some difficulty letting the harness help him work the fish to the boat.  Once he got the hang of it he did just fine.  In about 45minutes the ahi was circling a few yards under the boat.  As the swivel popped to the surface I grabbed the leader and started to pull the ahi to the surface.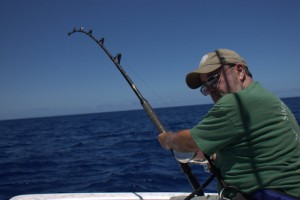 As I took my second series of wraps on the leader the hooks pulled out and we watched in disgust as a nice 150-160lb ahi swam back into the dark blue!  Oh well, sometimes it's just not meant to be….UGH!